The Show Must Go On
Dealing with adversity is part of every occupation. Working as a musician, there are always things that can go wrong. But regardless of the challenges, the show must go on!

Philippa's Farm Wedding
When Philippa rang me about playing at her wedding, I thought, "How sensible". Getting married on Anzac Day makes so much sense because it means that every wedding anniversary is a holiday. Also, your guests can play two-up during pre-dinner drinks. I remember an Anzac Day wedding I once did at Athol Hall, Mosman. Daryl the photographer came up to me boasting about how he was cleaning up in the two-up game. Five minutes later, the bride came up to me asking if I'd seen Daryl the photographer. She was wanting to get on with the family photos.
Philippa was planning a "farm wedding" at Kimo Estate, about 15 minutes from Gundagai. To keep costs reasonable, I figured that the solution was to hire in musicians from Canberra. There are plenty of fine musicians there. I had a few numbers. If these initial contacts weren't available, they would have other suggestions. Booking the band was quite easy. I was excited about working with some new guys.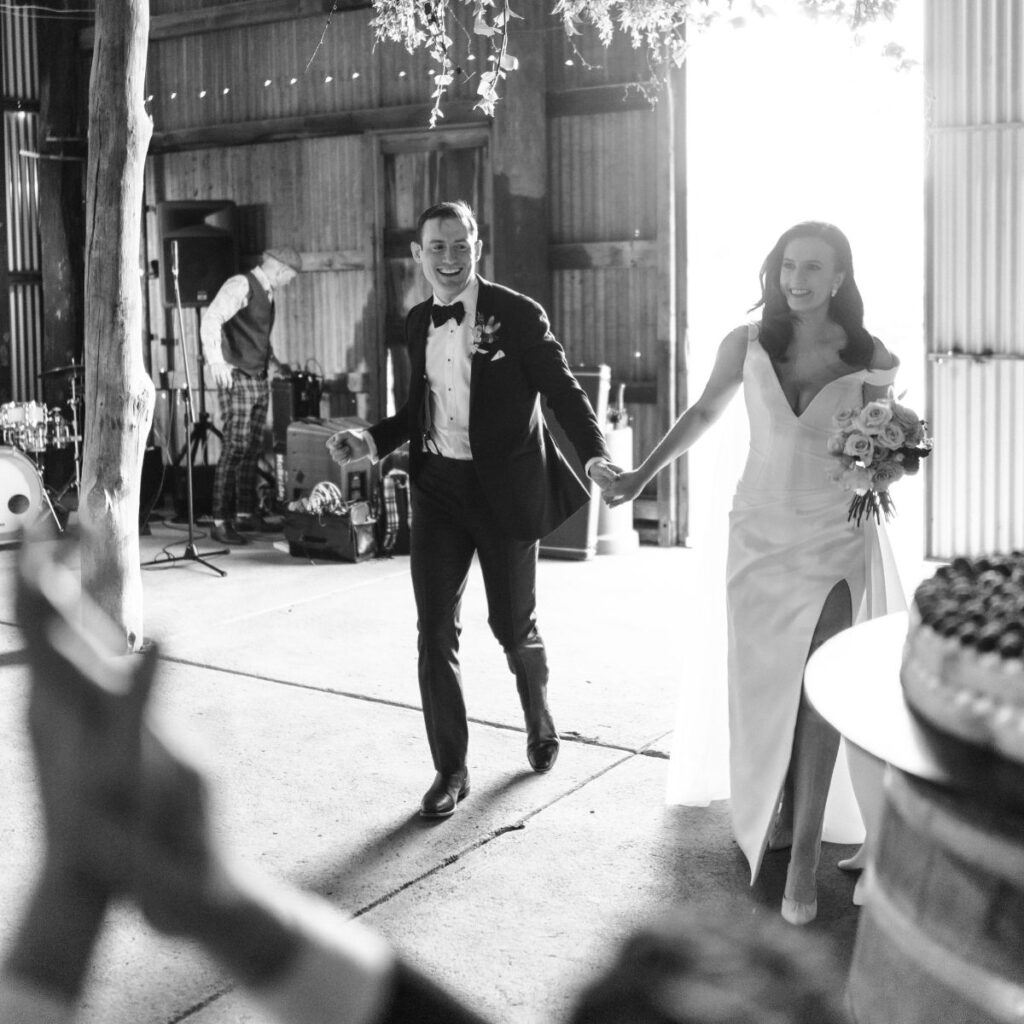 Then Covid Hit
2020 and 2021 have been disastrous for musicians. Bookings were continually either cancelled or postponed. My optimism took a heavy beating. In one of the numerous lockdowns, I took a job delivering office furniture. Strangely, while the population of Sydney were discouraged from leaving their homes, I drove all over Sydney going into people's houses, spending 40 minutes assembling their new home office workstations.
Phllippa postponed her wedding three times. Each time, I would call the musicians and try to re-book them for the new date. Some were available while some were not. My list of Canberra based musicians grew with each postponement. Nevertheless, I still managed to book a new band.
Fourth and Final Date
Philippa's fourth and final date was Saturday, 11th December. I had my 'Mark-4" band locked in. All was set. Then, ten days out from the wedding, the guitarist I had booked emailed me. He was no longer available. No phone call. No real explanation. "Something's come up – a family matter. Sorry".
December is a tough time to book musicians at late notice. Two days and fifteen phone calls later, I managed to locate a guitarist, Ben Hoare. He lives in Yass which isn't too far from Gundagai. Someone had passed on his number. I searched him up on YouTube. He sounded pretty good and was available. "Lock it in!"
Then, seven days out, the drummer rang me. "Sorry, I've double booked myself. Can you get someone else?" Once again, back on the phone, but only to learn that every drummer in the area was already booked. I contacted drummers from Canberra, Wagga, Griffith, Albury, and Murrumbateman. The very last number I had was for a Canberra drummer by the name of Gavin Kelly. "Yes, I can do the gig. "
"Lock it in!"
Wedding Day
This was to be a long gig. I was booked to start playing at 4pm, with a two hour solo spot at the ceremony followed by drinks and canapes. After this, I would lead the band for five hours at the reception (6pm – 11pm). Then I would DJ the final hour, keeping the punters dancing until midnight. I'm used to long gigs such as this, so I was undaunted.
The Breakdown
I left Sydney nice and early, around 9am. My plan was to check into The Gundagai Motel around 1:30/2pm, have a little nap and then drive the fifteen minutes out to the venue. I was on the Hume Highway, about 90 kms out of Gundagai, when my radiator exploded. I pulled over immediately and thought, "This is it. There's no way I can make Phillipa's wedding."
The first thing I did was to call the NRMA. After spending eight minutes on the phone being quizzed by a robotic voice and selecting options from my keypad, I finally spoke to a human. She asked, "Where are you?". I was somewhere on the Hume Highway, but that's a pretty long road. She was able to use my phone to access my GPS location. Help was on its way!
Can the Show Still Go On?
The next thing was to ring the band. "Hey guys, my car's died about 15kms south of Yass. Got any ideas?". Ben (my guitarist from Yass) suggested that I could possible travel down with him. He has a ute. As long as it didn't rain, I'd be right to travel down with him. Despite a few clouds, I was prepared to take a risk on the weather staying dry.
Within half an hour, the NRMA patrolman arrived. After checking out my car, he said he'd return with a tow truck. He could take my car back to Yass. Then the car could be towed to Sydney on Monday. There are no radiator repairers in Yass. I really had no other options.
Sitting in the cabin of the tow truck, enroute to my guitarist's house, I researched accommodation in Yass. I booked an expensive room at the Thunderbird Motel. Their "family suite" was the last available room. I didn't need five beds, but I didn't want to sleep in my car, either.
I met my guitarist under strained circumstances. It's difficult to expect favours from a total stranger. Regardless, Ben was typical of rural spirit. "Yeah mate, she'll be right". Onto the back of Ben's ute we loaded my P.A., stands, bags plus my trumpet and trombone. My Fender Stratocaster and ukulele luxuriously rode in the cabin with Ben's equipment and us.
Thank Goodness for a Late Bride
We arrived on the site for the ceremony at 4:10pm. One of the bridesmaids was freaking out at my lateness, but then the bride was running late. This saved me. My first song was to be "Love Is In Air", to be played at the conclusion of the ceremony. Then I learned that the reception was being held at a different location, about a kilometre up the road.
After dropping off my battery-powered set up, we drove to where the reception was to be held. I had two minutes to scope out the reception venue before getting a lift back to the ceremony site. When I arrived back, the ceremony had started. I surreptitiously set up behind the guests. Within ten minutes, the newlyweds were introduced by the celebrant and I launched into my rendition of the classic Vanda and Young love song.
I then continued on with singing and playing my ukulele while guests sipped on drinks and tapped their toes. At one stage, a guest came over to me and exclaimed, "I'm so sorry. I just want to apologise for not stopping". Evidently, my plaid, straight legged trousers had made an impact on him as he sped past me and my broken down car. Apparently, he had remarked to his wife, "wow, that guy with the broken down car sure has some great fashion sense!" Too bad he didn't stop to tell me.
At 6pm, I cadged I ride with one of the wait-staff across to the reception venue. My next task was to set up my PA and lights before the guests arrived by shuttle bus. The other band members were set up getting to know each other. None of these three guys had ever met before. I had worked previously with the bass player, Mick Malouf, but the other two guys were new to both of us. The next thing was to check out their ability as musicians.
Make Them Dance
We began to play as the guests disembarked from the shuttle buses. There was more drinking before guests took their seats and the food service began. We played throughout dinner before taking a break for speeches. After these, the moment of truth would be upon us.
Could this band made up of strangers thrown together less than ten days prior get this party ignited?
Would the band and I triumph against the adversities and obstacles that had stood before us on this day?
Could this band who had never played before, create the cohesion required to make dancing irresistible?
The proof of the pudding is in the tasting and answer to the three afore mentioned questions was a resounding, "yes!"
We ended up playing two, long dance sets and the dancefloor was never empty. When the band finished at 11pm, I switched roles and became the DJ. The dancefloor remained crowded right up until the last song. At midnight, the buses took guests back to Gundagai.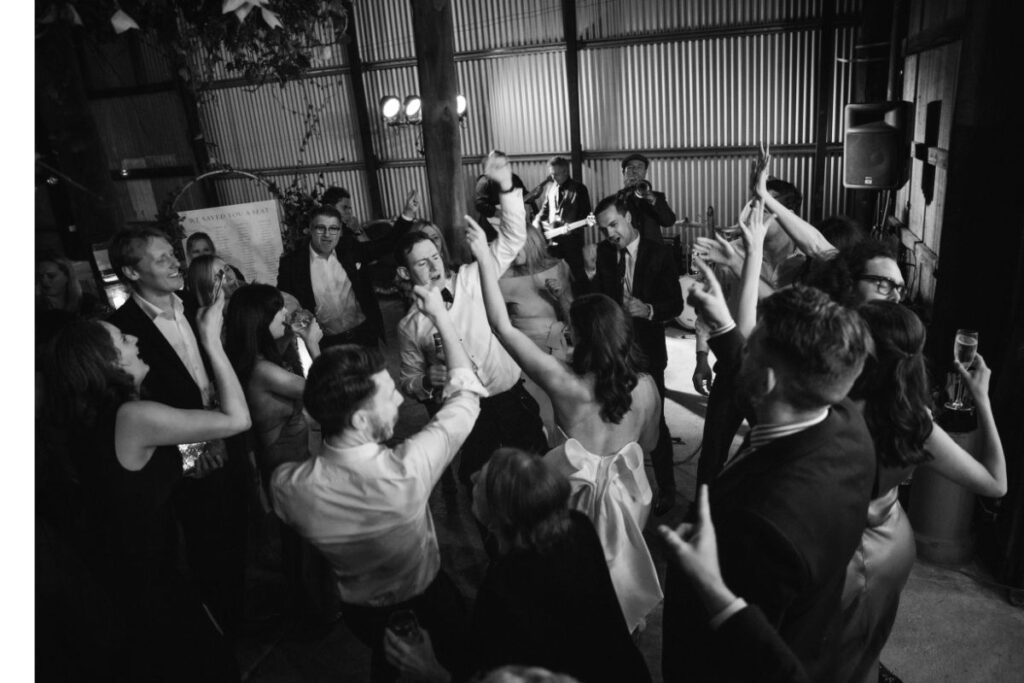 The Aftermath
With the venue now empty of guests, it was time to pack down the PA, lights and instruments. Despite having finished his part of the gig at 11pm, Ben had kindly stuck around to give me a lift back to Yass. Despite both of us feeling exhausted, we diligently loaded up his ute once more, before making the late-night drive back to Yass. We returned to Ben's house at 1:45am. Then we had to unpack my equipment and instruments from his ute into my broken-down car, after which he dropped me down to my motel. I made it to bed just after 2am.
My Wife's Rescue Mission
Sunday morning, my wife drove down to Yass to rescue me. I was pretty much unable to speak when she collected me from the motel. My voice was shot. Returning to Ben's house, I unloaded my equipment from the broken-down vehicle into the working vehicle. Then we drove back to Sydney. The car was towed back to Sydney on Monday. The new radiator went in on Tuesday.
But… Philippa's Wedding Was a Great Success